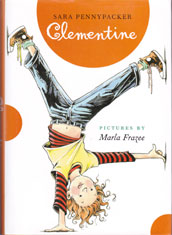 We just finished reading the book, Clementine by Sara Pennypacker, aloud. We have loved it. It is both very funny and very sweet at the same time. Here is a brief description of the book from
Sara Pennypacker's website
:
Clementine

In this first book of the series, Clementine tries to help out her friend Margaret, but ends up in a lot of trouble for it. Things get worse each day of the week, until finally she's worried that Margaret is right: Clementine's parents might consider her "the hard one" in the family. They're up to something mysterious...are they thinking they'd be better off if they only had her little vegetable-named brother..."the easy one"?
We have had some great laughs and great discussions while reading this book. We have been learning about understanding what we are reading and taking our thinking a little deeper. This book does just that. We had lots of questions as we read and needed to learn a knew word to describe how Clementine felt most of the time in the book - misunderstood. Clementine has attention issues which most first graders can relate to. As Clementine always says, she is paying attention - just not to the things that the adults around her think are important. I love this book as an adult and would recommend it to you. It is similar to Disney movies in how it puts in a few lines that only adults will understand.
There are more books in this series so I highly recommend them as a family read aloud. The whole family will enjoy them.
The video below shows what the crew did when they wanted me to read more from the Clementine book. This video was staged because I couldn't get a good video of this occurring naturally. (Mr. Todd saw them doing this yesterday and wondered who Clementine was?) I did not start this and I am not sure who did. What teacher can resist something like this? Of course, I read more to them. (If you get this post by email, you will need to go directly to the blog to view the 30 second video. They are all so cute that it will be worth it!)
We created a Padlet to share our thoughts about the book. A Padlet is an electronic sticky note wall. Once I create a wall, the crew just has to go to the wall and click twice to add their own sticky note with their ideas. You can do this from an ipad or a computer. Any viewer can rearrange the sticky notes or add a new sticky note. There are scroll bars along the bottom and side to navigate around the screen. Ours is shown below and it is also on the
Resources page
of our crew blog. You can also click
here
to view our Padlet. Now that we have learned how to use Padlet, I bet the ideas we share during our next read aloud will be much deeper.
Created with Padlet