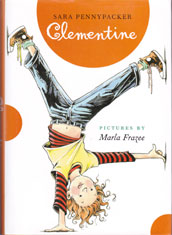 We just finished reading the book, Clementine by Sara Pennypacker, aloud. We have loved it. It is both very funny and very sweet at the same time. Here is a brief description of the book from
Sara Pennypacker's website
:
Clementine

In this first book of the series, Clementine tries to help out her friend Margaret, but ends up in a lot of trouble for it. Things get worse each day of the week, until finally she's worried that Margaret is right: Clementine's parents might consider her "the hard one" in the family. They're up to something mysterious...are they thinking they'd be better off if they only had her little vegetable-named brother..."the easy one"?
We have had some great laughs and great discussions while reading this book. We have been learning about understanding what we are reading and taking our thinking a little deeper. This book does just that. We had lots of questions as we read and needed to learn a knew word to describe how Clementine felt most of the time in the book - misunderstood. Clementine has attention issues which most first graders can relate to. As Clementine always says, she is paying attention - just not to the things that the adults around her think are important. I love this book as an adult and would recommend it to you. It is similar to Disney movies in how it puts in a few lines that only adults will understand.
There are more books in this series so I highly recommend them as a family read aloud. The whole family will enjoy them. The author has just started a new series about a boy in Clementine's class named Waylon. Again I highly recommend both of these series for family read alouds. One reviewer called these books "alternately laugh-aloud funny and melt-your-heart tender" and I completely agree.